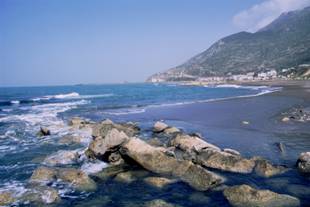 Seleucia Pieria (present day Cevlik) is situated at the slopes of the mountain Moses ( Musa daš - also the title of a famous French novel ) 28 km from Antioch and near Samandaš a big village with an orthodox priest and two churches. Still visible from this ancient city, built around 300 BC, are many tombs dug into the rock, one necropolis (" Bežikli mašara "), the remains of Hellenistic temple and the port from which St. Paul, accompanied by Barnabas and Mark, left on the first of his Apostolic journeys (Acts 13,4).
Not far from the port there is a huge tunnel dating from the time of the emperors Vespasian and Titus. This was built to change the course of the torrent which threatened to silt up the port.
This great feat of Roman engineering is the result of the labour of thousands of slaves, amongst whom were Jews deported after the fall of Jerusalem in AD 70.
| | | |
| --- | --- | --- |
| | | |
| Tunnel | Tunnel | Necropolis: 'Beži kli mašara'' |
| | |
| --- | --- |
| | |
| View of the entrance to the port | Memorial tablet cut in the rock at the entrance of the tunnel (Divus Vespasianus et Divus Titus F.C) |