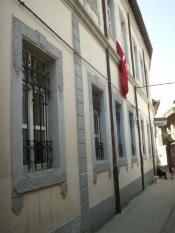 SCHOOL OF THE NUNS OF SAINT YOSEF Of THE APPARITION
The sisters of St Joseph of the Apparition opened a school in Antioch in 1913. The congregation, which is of French origin, opened schools throughout the Ottoman empire to educate the children the Christian families of European origin. However places in the schools were also sought by other families in the city. The sisters gave free education to children of poor families and, to begin with at least, their primary (elementary) school was the only one in the city. Attached to this was a dispensary and an old peoples' home.
The school was closed down in 1938 when Hatay came under Turkish jurisdiction. The buildings however have remained the same both inside and out.
A photo of the inner courtyard dating from 1930; the building is still the same today



One historical photo of the inside (1930) but still today conserve the same aspect: